"Fence Fabric is the original Faux foliage, stone, and brick mesh vinyl windscreen. Fence Fabric was created as a design solution for a landscape design challenge. Fence fabric came to life in 2006" 

Fence Fabric has been used for everything from back yard fences, to construction screening, for custom signage, and art placements, to backdrops for weddings and events.
Let your imagination go wild ! If you don't see an image or size we offer that works for you ask us and we will help you create what you need.
Custom Privacy!
Turn a backyard parking area off an alley into a private retreat.
Exact dimensions for an oversized gate were provided us. Block out black back 100% privacy Fence Fabric in Country Hedge was used here.

Ask for custom quote.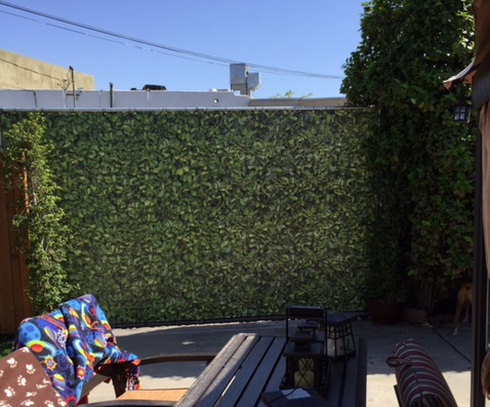 Tiki Room
Turning their back yard into a tropical paradise, our block out black back ficus planting was used to screen out the neighbors house. ​
Tip: Use Block out black back when total privacy is needed. Our mesh product is best when there is an issue with wind.
8 ounce mesh (not shown) is see through.
11 ounce has smaller holes, so it is less see through.
Block out hides all the ugly behind it !Shop Ficus Planting